Shopping › Shopping Gourmand
CAP'MUNDO
THE FIRST RANGE OF CAPSULES
100% BIODEGRADABLE AND COMPOSTABLE
COMPATIBLES NESPRESSO®.
CAP'MUNDO, signs a new range of coffee of exception.
CAP'MUNDO, 100% ecological capsules!
Cap'Mundo offers a range of exceptional coffees whose process of artisanal roasting allows to express all the typicity of the rigorously selected coffees.
A qualitative, fair and ecological alternative that is perfectly compatible with all Nespresso® machines.

For Cap'Mundo, the quality of a cup of coffee is as important as its traceability and ecological footprint. With its artisanal know-how, Cap'Mundo has been committed, since its creation in 2013, to a sincere and authentic approach, in favor of respect for the environment.
That is why today it offers the FIRST range of fully biodegradable and compostable organic and Fairtrade coffee capsules.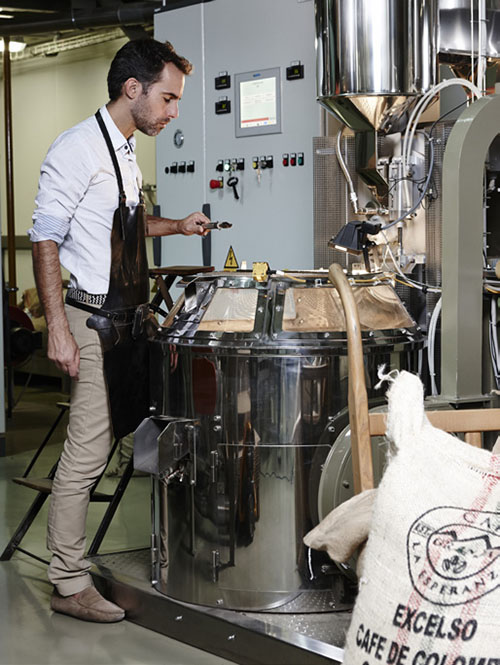 A MINIMUM PACKAGING, FOR THE GOOD OF THE PLANET
The capsule and the paper seal are biodegradable, industrially compostable in less than 3 months and made from renewable materials. The capsules are made from sugar cane or corn and paper, and guaranteed without aluminum or GMO.
OR SHOULD I CAPTURE CAP'MUNDO BIO & COMPOST?
> In the bin of organic waste, if the city collects industrial compost.
> In the garbage bin, otherwise.
CAP'MUNDO BIO & COMPOST, THE EXCELLENCE OF ORGANIC COFFEE
The new CAP'MUNDO recipes are made with coffees grown by passionate producers who are concerned about the preservation of their terroir. Sublimated by an artisanal roasting, these unique recipes reveal the aromas and flavors of their place of origin. Exclusive recipes, to discover already in more than 150 grocery stores, fireplaces and organic shops of France.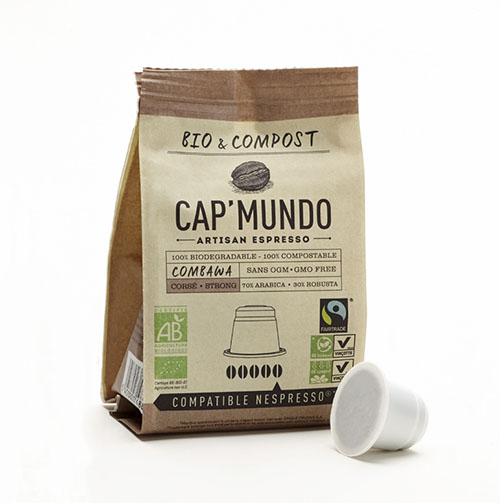 THE CAP'MUNDO BIO & COMPOST RANGE COMBAWA (full-bodied)
A coffee with notes of cedar, walnut
fresh and sweet spices.
> 70% Arabica / 30% Robusta
> Taste Character: Racé
> Aromatic repertoire: Spicy and Woody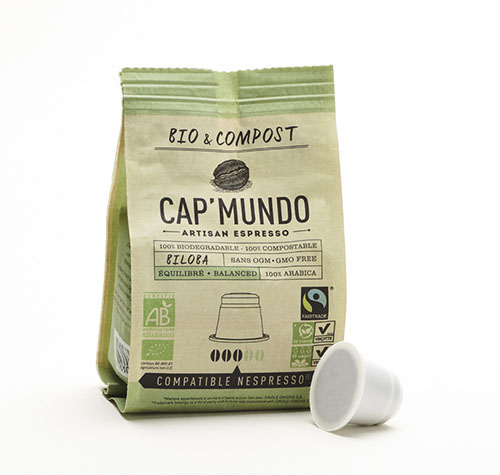 BILOBA (balanced)
A round and velvety liquor that
characterized by its power and richness around oral notes and yellow fruits.
> 100% Arabica
> Taste character: Harmonious
> Aromatic repertoire: Floral and fruity

ADENIA (decaffeinated)
A harmonious recipe that marries
perfection the delicacy of dried fruit notes and aromas of white pepper.
> 100% Arabica
> Decaffeinated with water without any chemical substance
> Taste character: Harmonious
> Aromatic repertoire: Gourmand and Spicy
CONDITIONING: Bag of 10 hermetic capsules 100% biodegradable and compostable
PRICE: From 0.34 € the capsule
POINTS OF SALE: grocery stores, fireplaces and organic shops in France.
LIST OF POINTS OF SALE