Cap'Mundo, a capsule compatible Nespresso® * artisanal slow traditional roasting and separated, five exclusive recipes (including a bio) concocted in the workshop by experts, and capsules with seamless compatibility for a lower price. Sold only in delicatessens and burners.
ARTISANAL TORREFACTION AT THE HEART
COMPATIBLE CAPSULE NESPRESSO ® *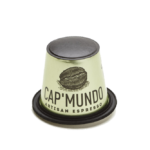 Notre objectif premier est de tirer la quintessence de notre capsule par la maîtrise du sourcing des cafés verts, des techniques d'assemblages et de la création de profils sensoriels à la torréfaction, afin de proposer une offre en adéquation totale avec vos attentes.